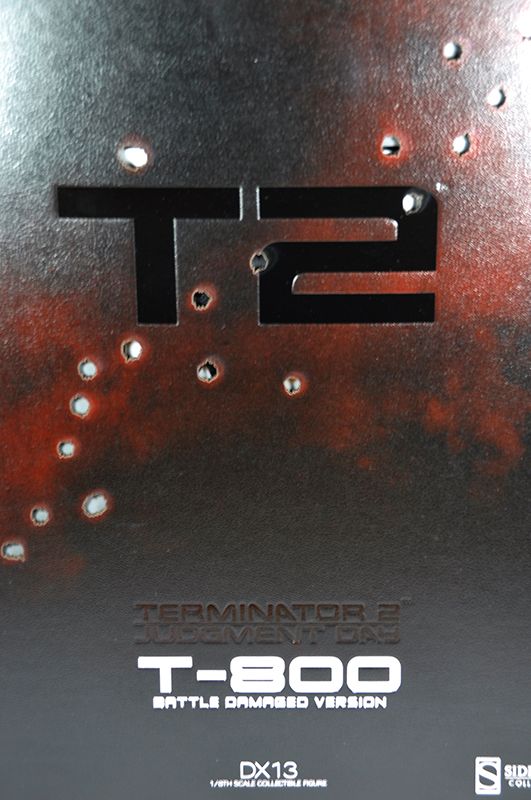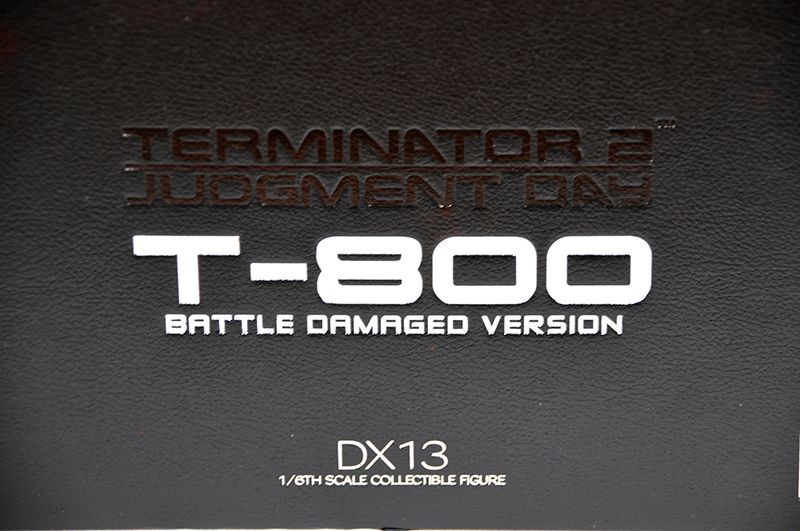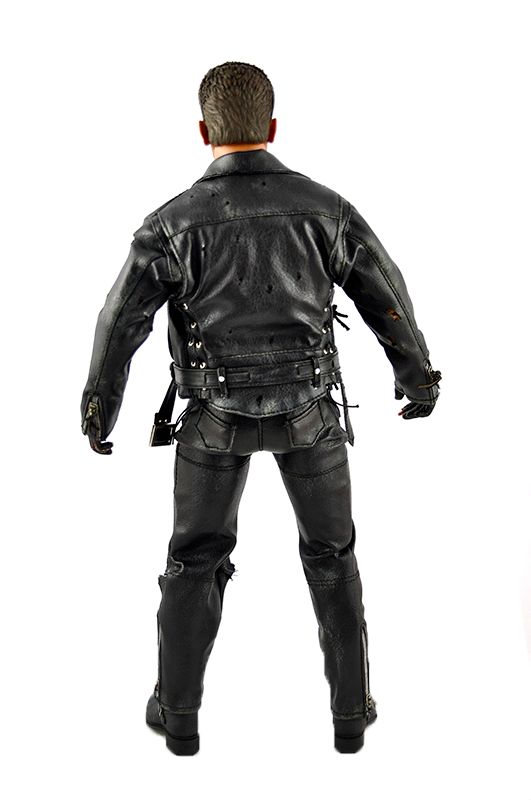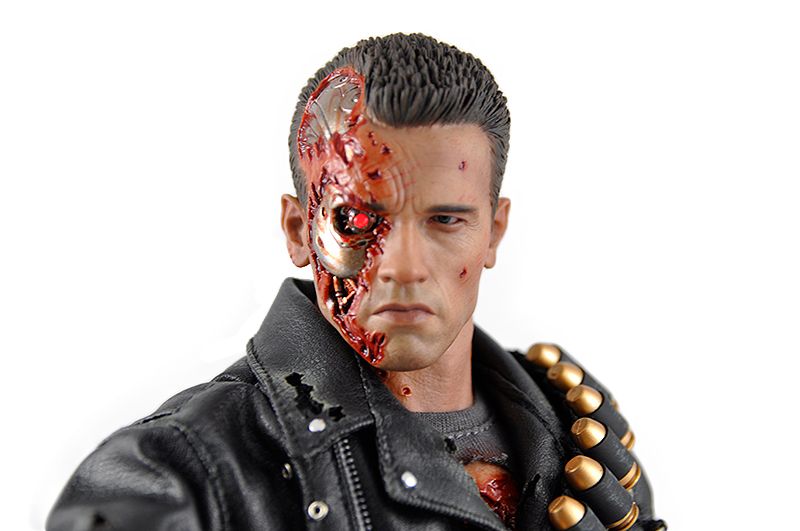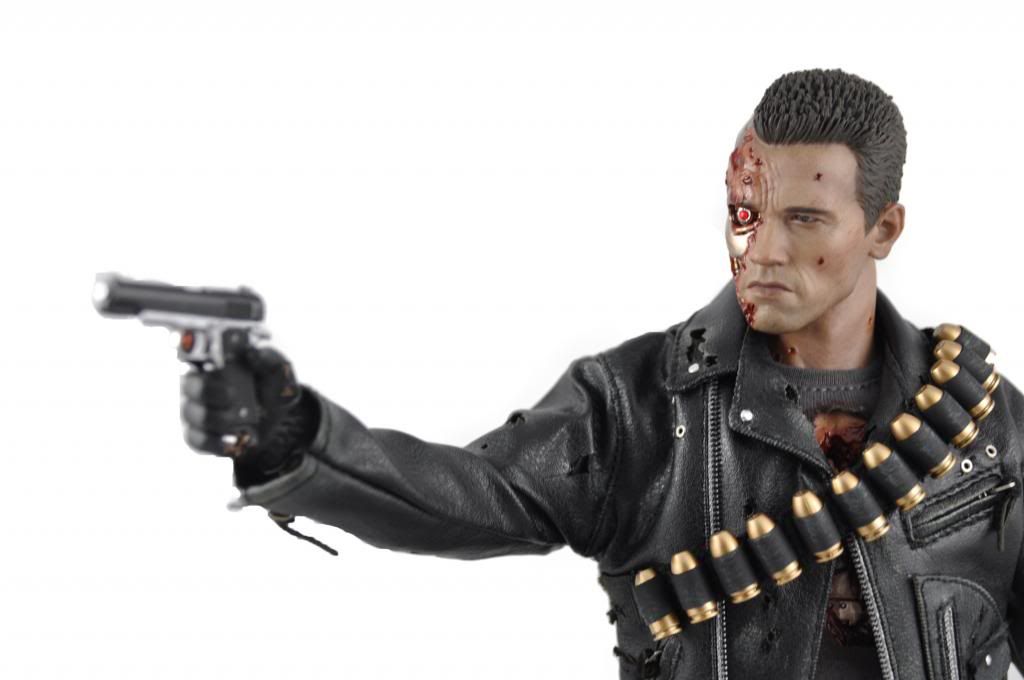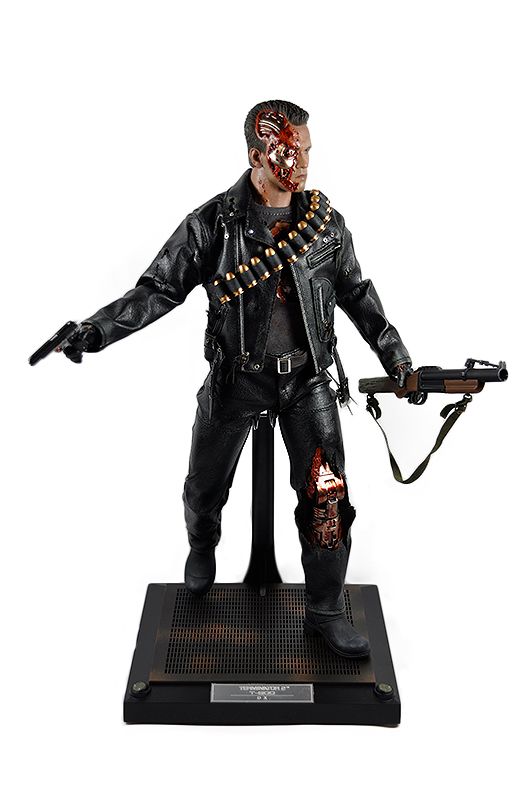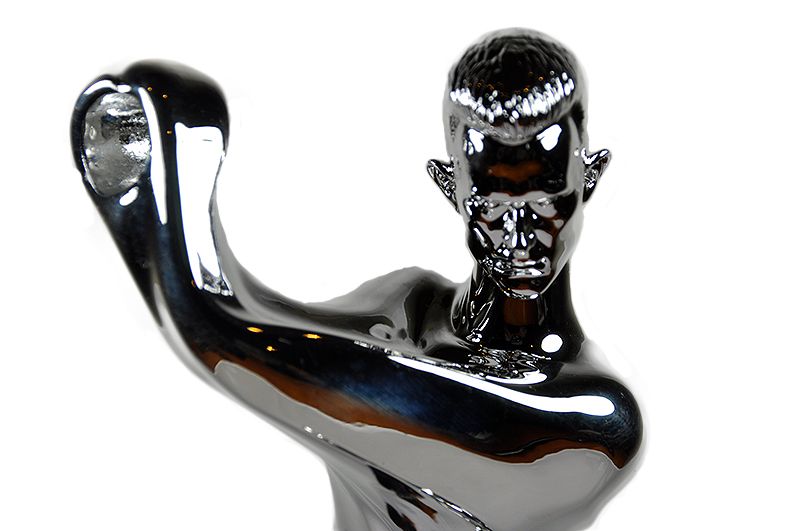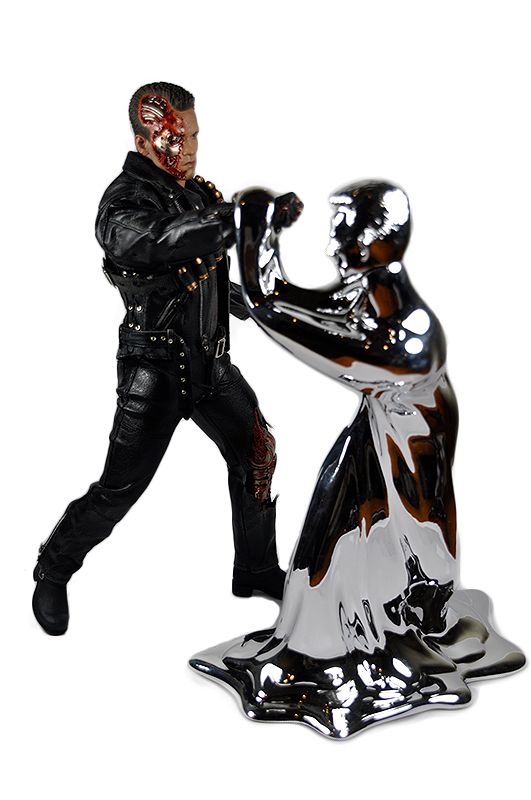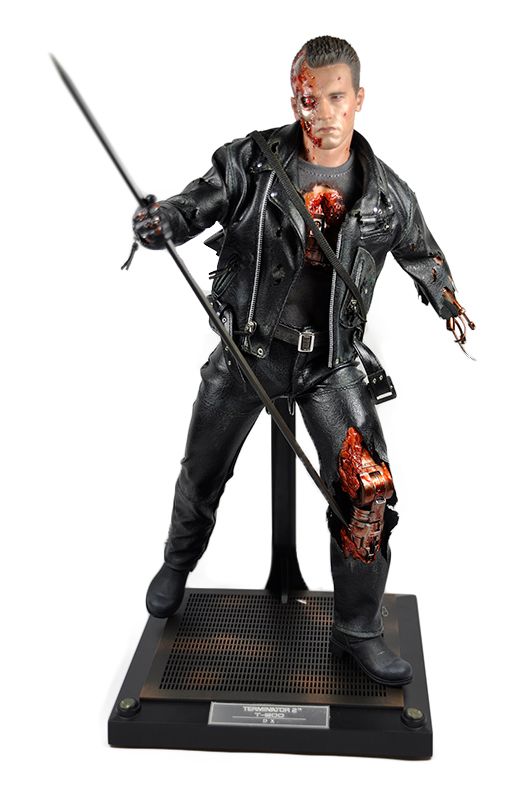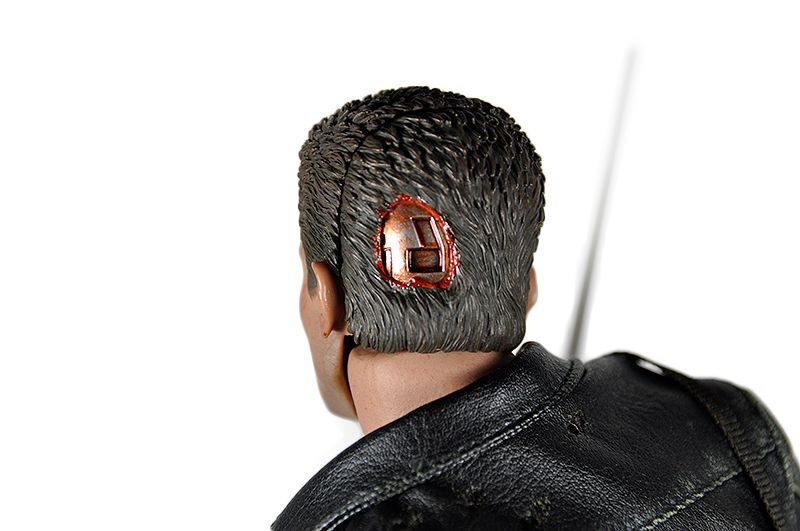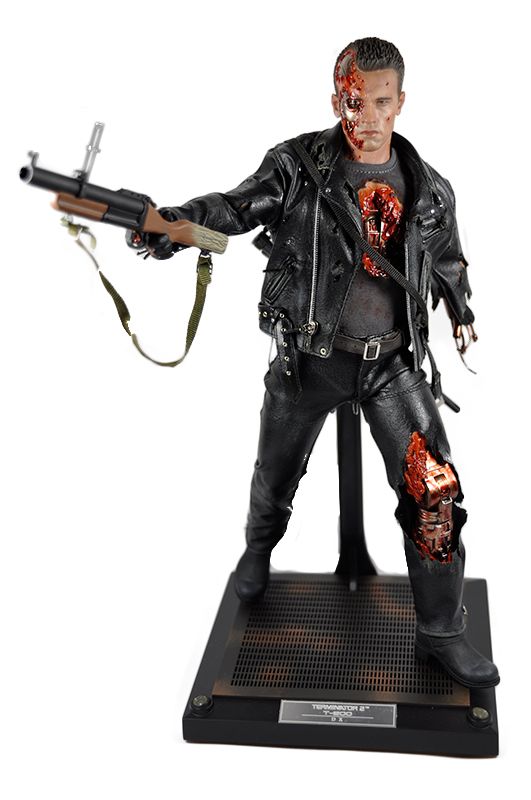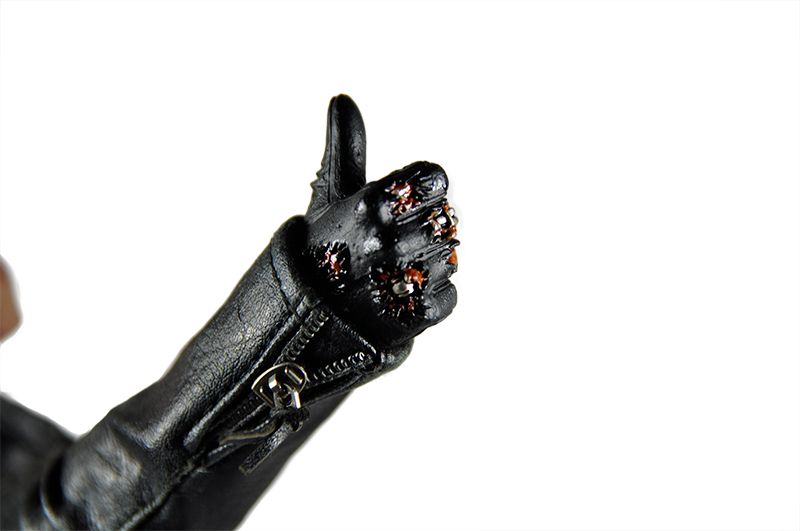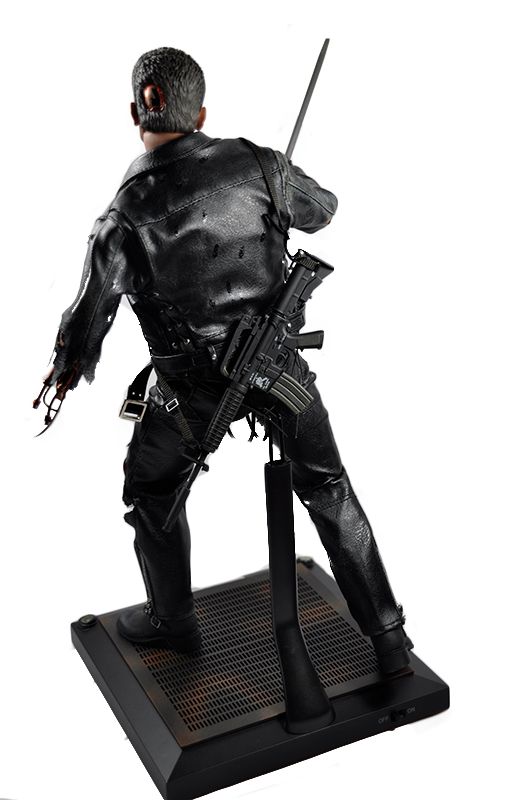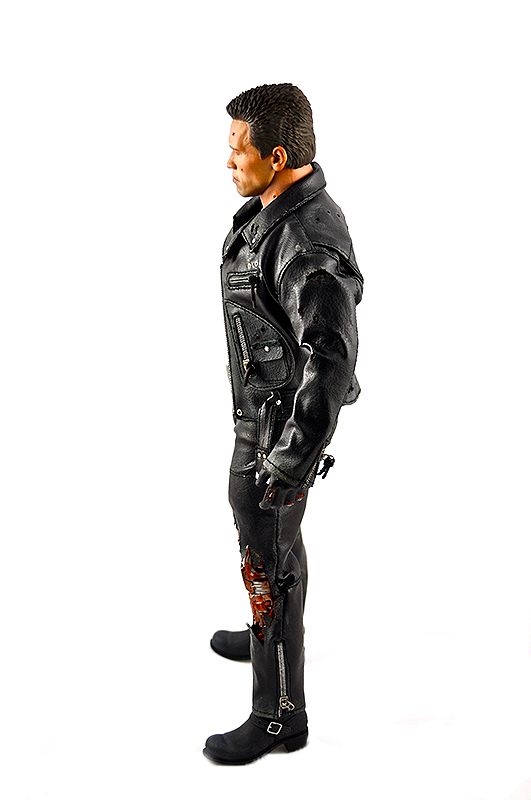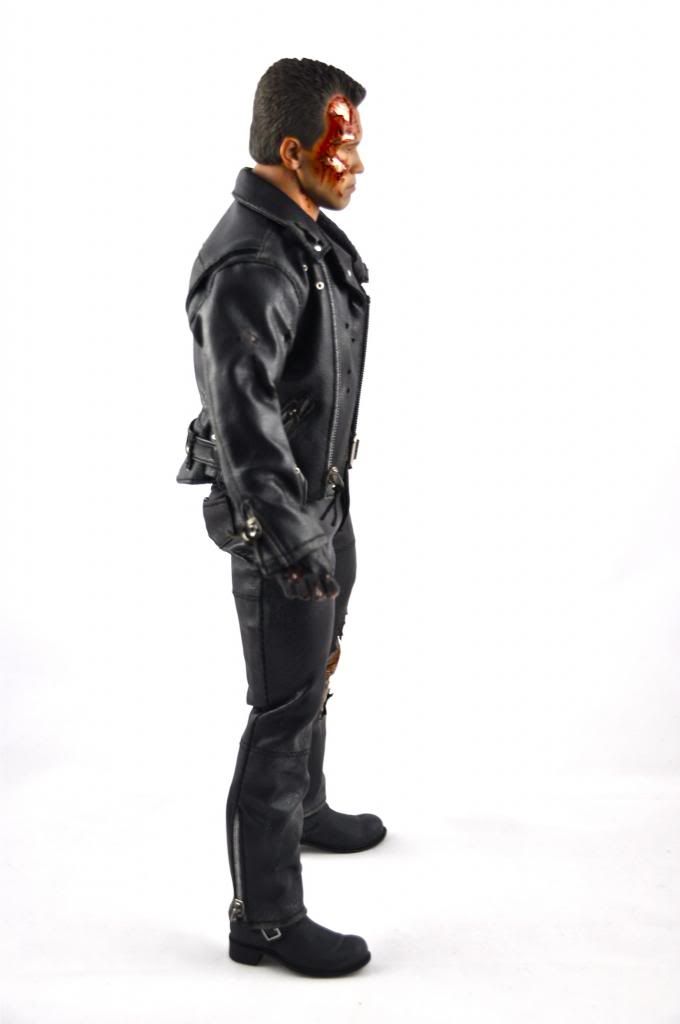 T-800 (Battle Damaged) Terminator 2 Special Edition
Nov. 2013
Hot Toys
DX Series Movie Masterpiece
$314.99
comments:
Hot Toys doesn't just slap the "DX Series" for shi*s and giggles people. This is the real deal when it comes to quality Terminator figure. The head sculpt is absolutely flawless, capturing Arnold's face and most importantly his expression during the epic battle scene towards end of the movie "Terminator 2 Judgment Day". If you compare this to any other sixth scale head sculpt, guarantee you can see the difference. As you can see in title for this post, this version is the SIdeShow Exclusive Special Edition which includes alternate T-1000, Robert Patrick head sculpt in semi liquid form. Another beautifully, well-done sculpt by Hot Toy folks but part of me thinks this should have been included originally rather than being exclusive edition item, but o wells. Both T-800 and T-1000 have nice feel and weight to them making them sturdy and can balance well even without base. Speaking of base, this one lights up! And it actually looks cool for once! Anyways back to the figures!
I feel like I mentioned the head sculpt enough times already, it's great, looks exactly like Arny, has light-up eye function on alternate head, articulate eyeballs on both head, clean and very detailed.
The body has many articulation, tight joins all around, has an alternate vest for the alternate battle damaged left arm, sturdy and doesn't really need a display stand to execute poses. Personally though I feel that Hot Toys are weak when it comes to belts. They are detailed enough to create bullet holes, rips/tears, zippers, buttons and all that good stuff on the clothes, but the belt is always weak! I felt this way on my Avengers, Captain America figure also and was really only impressed with the belt on 1/4 Dark Knight. Could be because that's one of the characters main highlight but for them to go this far and then stop at the belt feels kind of a waste. Again this could be personal thing but still irks me a little. Overall, very high quality and awesome!
The accessories! DX Series are known to have all sorts of accessories and this did not disappoint! Alternate hands, lots of weapons with it's own functionality and ammo! Comes with metal pole to capture the famous scene where it's jammed in T-800's knee! The alternate battle damaged arm is fantastic and hard to resist not putting on for display. Should mention each alternate hands are also battle damaged. You can see rips on the gloves, endoskeleton fingertips, and blood!
The display stand is perfect. SImple yet iconic and cool! Having the light up function is a nice touch but does not come with batteries which is just a tease in my opinion haha. Still, with the included display stand, it'll guarantee to make any pose 100 time better! Much better than Hot Toy's Avengers line.
Overall this figure lives up and deserves the "DX Series" stamp on the beautiful, also "battle damaged" box. Very figure all around, lots of accessories, cool display stand, and displaying this baby is totally worth the hefty price. So many poses can be done, will definitley keep you entertained and will prove to be challenging to pick a pose and actually sticking with it (in a good way of course!). SO much can be done with no modification necessary! Treat yourself this christmas with this beautiful figure now!!!